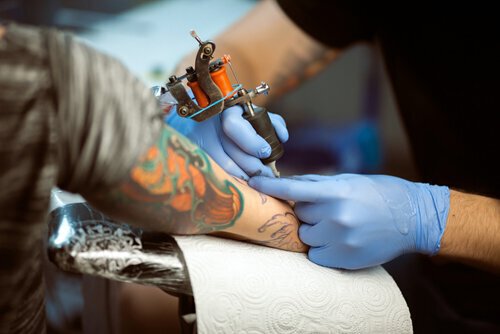 Strong majority of tattoo wearers have several, poll reveals
Seemingly putting the "too" in "tattoo," the vast majority of us with body art have more than one picture, symbol or word imprinted on ourselves, according to the results of a recent survey.
Approximately 30 percent of U.S. adults have tattoos, a new poll conducted by Harris Interactive. That's a fairly significant increase in a short amount of time, as four years ago during 2012, only about 20 percent were tattooed.
"Almost a third of Americans have at least one tattoo."
But perhaps the most interesting finding that resulted from the The Harris Poll – which was done late last year and surveyed roughly 2,200 adults at least 18 years of age – is those with tattoos rarely stop at just one. Of the 30 percent of Americans with a tattoo, around 7 in 10 – 69 percent – have two or more.
Millennials highly nonchalant about tattoos
Not only are tattoos more of the norm today than in fairly recent years, they've become so commonplace that others don't think twice about them when on display out on the street or in the workplace. This is particularly true for millennials – 18- to 35-year-olds – who recently overtook baby boomers as the country's largest generation by population, according to the U.S. Census Bureau.
A majority of millennials said they'd be "extremely" at ease with seeing workers wearing tattoos in a variety of professions, the poll discovered, among them professional athletics, real estate, even banking, medicine and public administration.
In addition to tattoos frequently serving as pictorial manifestations of wearers' individuality, those of us with ink also consider tattoos to be visibly appealing – in more ways than one. Nearly one-third of respondents to the Harris Poll said their tattoos made them feel sexy with roughly the same percentage – 32 percent – saying tattoos gave them an added dose of self-confidence by imbuing a sense of attractiveness. 
Speaking of which, men who seek hair replacement treatment typically do so to feel better about themselves and be viewed as more attractive. A recent study out of John Hopkins University School of Medicine – and published in the Journal of the American Medical Association – recently found as much, revealing that both women and men viewed males as both handsome and more youthful looking after receiving hair transplant therapy treatment.
"This procedure can help make thin or thinning hair appear fuller."
Micropigmentation is the tattooing of hair
However, there's another hair replacement treatment that's less invasive than the traditional method, but can be every bit as effective at improving self-confidence. It's called micropigmentation.
More informally known as the tattooing of hair, the procedure involves strategically placing microscopic "follicles" on the scalp in order to give the appearance of a short-cropped cut as opposed to no hairline at all, which eventually happens through male-patterned baldness.
​ The procedure is a fairly new cosmetic treatment that's been featured in a number of major news, entertainment and style publications, including GQ Magazine. It's also an effective way to make thin hair look like it has more volume than it does in actuality.
For more information on micropigmentation and to determine whether you may be a good candidate for the procedure, schedule an appointment with Marotta Hair Restoration today.