A few stray hairs on the bathroom sink may be an early indicator of hair loss, or they could have no bearing on the state of your scalp at all. Indeed, people tend to lose between 50 and 100 hairs per day, according to the American Academy of Dermatologists.
So how can you evaluate your hair loss? Read on to learn more.
Evaluating hair loss
Only a medical professional can definitively evaluate hair loss. These guidelines can help you decide when to see a doctor.
First, it's important to understand the difference between sudden and gradual hair loss. AAD described sudden hair loss as a result of an ailment such as alopecia areata or an infection such as ringworm. Genetics is typically the culprit of gradual hair loss.
If your scalp appears red or scaly, or your hair loss has formed an unusual pattern, it's best to consult your doctor. You may also try gently tugging on a small bunch of hairs to test their strength. If your hair falls out with little effort, it's another good indicator that you should consult a doctor.
Male-pattern baldness typically presents as either thinning of the hair starting at the hairline, then proceeding to the crown of the head, or in the opposite order. The rate of hair loss varies at an individual level.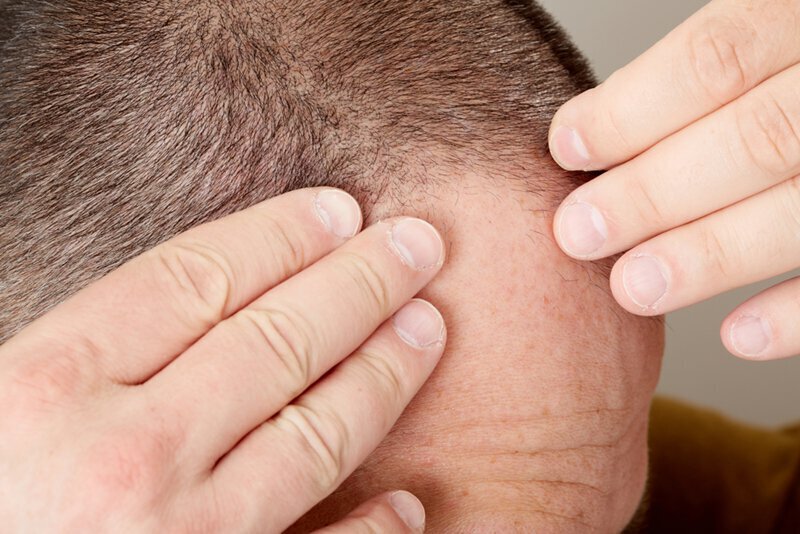 A
 drug reaction or infection can cause sudden hair loss.
When is it time to call for a consultation?
Hair restoration is an aesthetic choice, and that means it's up to you to decide when to consult with a professional plastic surgeon. In general, it's best to wait until after your 20s to consider these procedures, as more hair loss is likely to occur as you age, and you may need multiple treatments.
The loss of your hair may impact your self-esteem and confidence. If this is the case, consult with your doctor to learn more about your options. A trained specialist can examine your scalp and check your medical history to determine the cause of the hair loss and suggest treatment options.
Schedule a consultation today to see how Dr. Marotta and his team can help you decide which hair restoration option is right for you. Dr. Marotta is a dual board certified facial plastic surgeon. He is committed to delivering the best experience possible to his clients.